The Ultimate Cheat Sheet for all your Tax Help
Looking for tax help? Filing tax returns is one of the stressful tasks, given the amount of documentation and last minute detail it involves. As Alfred E. Neuman once said; "Today, it takes more brains and effort to make out the income-tax form than it does to make the income".
No wonder many people turn to the help of an expert to guide them through the whole tax process.That expert is a registered tax agent or accountant, and at tax time, they become your best friend! They can give you the right advice and can help you save money.However, selecting the right tax agent can seem like an over whelming decision to make. To help you out, JG Accountants offer a few tips to keep in mind when finding the right tax agent as well as some useful tax time hints. Get tax help and stay relaxed.
Choose registered tax agents: When you start looking for tax help it is best to seek out professional, fully qualified tax agents or accountants. After all, you are about to trust them with all the financial details of your business or individual taxation affairs. Finances are important to everyone, so it is imperative that you find the best registered tax agent to help you maximise your tax refund and to guide you in the right direction with all your other financial matters.
What to look for: Look at the previous experience of your tax agent or accountant. Have they been specialising in taxes for a long time? Or, if they are just starting out, have they got an experienced team member to guide them? Experience matters most. See if they have relevant experience handling different entities and all kinds of taxation scenarios. This way you can rest assured that your taxation matters are getting the tax help they deserve.
Once you have found the best accountant or registered tax agent, they will be able to provide you with all the relevant tax help and advice to steer your financial matters in the right direction. Some of the areas they will be able to help you with are:
Investment choices: Choosing the right investments are essential if you hope to reap the benefits of a tax refund. The accountants at JG Accountants will be able to provide you with tax help and advice when it comes to looking for a range of options that will allow you to build a strong financial portfolio.
Declare everything: It is crucial that you declare all your income as well as your expenses when you are lodging a tax return. Every source of income must be accounted for, whether it be revenue from a single job or multiple jobs, or interest or dividends earned.To balance out the income, every expense you have incurred to earn the income will also need to be recorded. Work related expenses that you may be able to claim against your income include:
Car travel and expenses
Travel expenses for work
Phone, laptops or other work devices
Office supplies
Uniforms and work safety gear
Home office expenses
Other deductions may also include car loans, depreciation on work equipment, property loans and rental expenses. So that your taxes can be calculated correctly, and all the deductions considered, you should seek professional tax help from JG Accountants. They will be able to categorise your earnings and deductions accordingly, and process your taxes to maximise your tax refund.
One of the best tax help tips is to keep a copy of all your receipts for work related expenses, otherwise you may not be able to claim them.
Understanding the basics: Another benefit for seeking out professional tax help is that if you are someone who gets confused with the ever-changing tax rules, then leave all the tax rules to the tax experts. JG Accountants are up to date with all the current regulations.You can spend your valuable time focusing on your business and let JG Accountants focus on maximising your tax return! Look at all the benefits professional tax help can bring: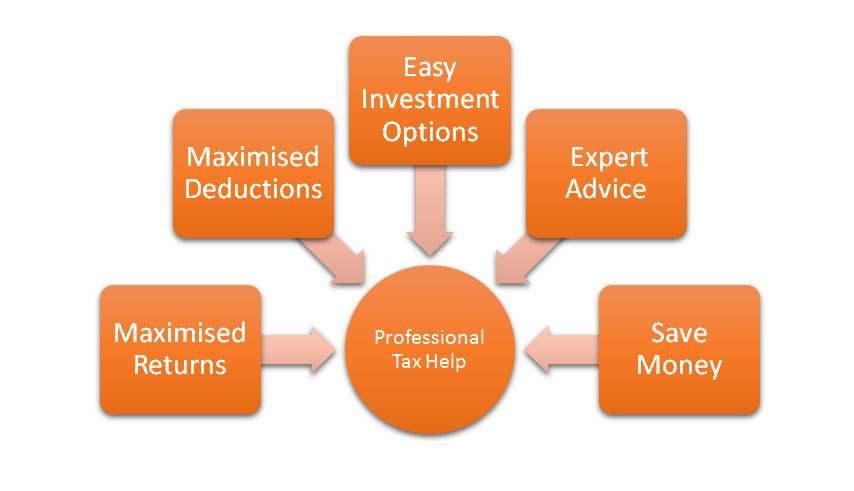 How can the experts at JG Accountants help?
Experienced.
Save you time and money.
Maximum tax returns.
Affordable fees and no hidden costs.
Simple and efficient.
No matter how complex your tax issues may be, JG Accountants have vast taxation experience and will be able to handle them all efficiently. They have expertise in all areas, whether you are an individual, a business owner, a partnership or a trust. JG Accountants not only support you with the right tax help to maximise your tax return, they will deal with all your tax concerns with utmost professionalism, ensuring that you get nothing but the best service possible.